Invited to a Baby Shower Party? Find out what Gift Ideas You Can Give and what to Avoid
A baby shower is an occasion to celebrate the birth of a child and a time when people give gifts to the new mother and baby. In some cases, baby showers are held before the child's birth.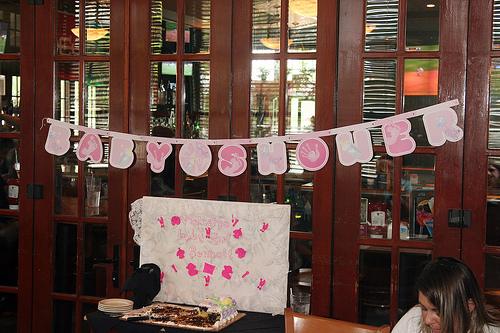 At these events, refreshments are served and there may be games or other activities. Traditionally, only women have participated in this custom, though there are signs that may be changing.
Let's look at some baby shower gift ideas, as well as some gifts that are not right for this occasion.
Baby Showers Gift Ideas Recommendation
It's a good idea to talk to other people who are attending so that you don't end up purchasing gifts that are duplicates. If you are not able to communicate with all of the other guests, don't' let this concern you, though.
There are still cool gift ideas that are sure to please new mothers. In many cases, even duplicate gifts are welcomes. Many items wear out quickly and it never hurts to have more than one of something.
Baby clothes and bedding are always good choices. Hoodies, body suits and blankets are always needed. You have many choices when it comes to styles and designs. When buying baby clothes, it's best to choose something in a size the baby will grow into. If the baby hasn't yet been born, of course, items for newborns are fine.
Another thoughtful gift is a baby monitor. This gives parents peace of mind when the baby is sleeping in another room. These devices provide both audio and video footage of the baby so that parents are alerted if there is a problem or if the child needs attention.
A set of popular or classic children's books makes a great gift. This gives the parents a head start so when the child begins reading he or she has some books to enjoy. There are many attractive and enriching books, many with nice illustrations as well. You can look at some well known authors such as Dr. Seuss, and you can also see what new books for young children have been published recently.
Bath kits are gifts that any new or expectant mother will appreciate. This is also the type of gift that can never be redundant, as there will always be a need for more soap, shampoo and other items that help keep the baby clean and fresh.
If you want to choose a more creative gift, you could also purchase some type of service for the mother. Another alternative would be to provide the service yourself. This could be babysitting, housecleaning or providing some meals. New parents are always under a certain amount of stress, and they will definitely appreciate getting a gift that lets them relax and have someone else do the work for a change.
Inappropriate Gifts
When considering baby shower gift ideas, you should also know what gifts NOT to get.
An example of an impractical gift would be a fancy outfit made for a newborn baby that will quickly be outgrown. Another impractical gift would be a gift certificate to a fancy restaurant, something that new parents will not have much of a chance to use for some time.
It's also best to avoid gifts that are cute but serve no real purpose. Toys or stuffed animals are fine, as the baby will enjoy these, but figurines, engraved plaques or anything breakable will just take up space.
You also want to use a little style and imagination when choosing a gift. For this reason, a large supply of diapers will not make the best impression.
Finally, you should pay attention to the tastes, lifestyle and specific requests of the mother. In many cases she will offer advice on what she does and doesn't need. If you're really not sure what to get, it's best to ask the mother directly for suggestions.